Wealth Insights (November 2017)
Tough Job For Powell
Richard Jerram
Chief Economist, Bank of Singapore
Member of OCBC Wealth Panel
Jerome "Jay" Powell is set to replace Janet Yellen as Fed Chair and he will face a tough job in judging the amount of tightening needed over the coming years.
Policy continuity under Powell
Powell has been on the Federal Reserve Board since 2012, but his background is in financial markets rather than economics. He looks like a centrist, "Yellen-lite" Chair, but without the academic credentials to drive the FOMC's opinion on the direction of policy.
Non-economists can bring a useful perspective to the policy discussion, but Powell is unlikely to have much of an impact on the views of the half of the FOMC that has a PhD in economics.
This is far from ideal, as at some point in Powell's four-year term the Fed will need to decide how much interest rates need to overshoot neutral levels in order to cool down the economy, and perhaps also deal with the next recession.
December hike, but less clarity on 2018
Yellen has done a great job in holding back the pace of rate hikes and allowing the labour market to heal. She has also done her successor a favour by starting the balance sheet reduction process, and putting it on auto-pilot, so that will not be a distraction.
December is likely to see the fifth rate hike of this cycle. A hint came in the statement that followed the Fed meeting last night, which was more upbeat than before. It described economic activity as rising "at a solid rate" compared to "moderately" before.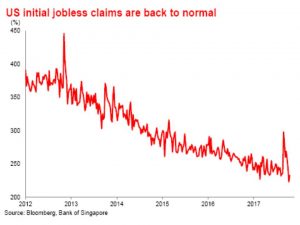 The positive assessment reflects recent data releases, such as the initial jobless claims data, which spiked after the hurricanes, but are now back to normal. The Labour Department on Friday revised its estimate of September payrolls from a decline of 33,000 — the first net loss in jobs in seven years — to an 18,000-job gain. With the revision, the economy has now added jobs for 85 straight months, a record.
This keeps a December rate hike firmly in view, but the more interesting question is what happens in 2018. We expect three more hikes.
Tax cuts should mean more rate hikes
We can see an inconsistency in current market expectations. The equity market seems to believe the government can deliver a boost to growth and earnings from tax cuts, but the fixed income market thinks it probable that it may lead the Fed to respond faster to looser fiscal policy, as the Fed is trying to slow down growth.
Tax cuts deliver a fiscal boost, but do little to improve the supply-side of the economy. The Fed is already concerned that the unemployment rate is unusually low, but soft inflation readings give it time to adjust interest rates back up to neutral levels.
If a fiscal giveaway stimulates growth, then the Fed might need to move faster than the four rate hikes planned by the end of 2018 (which we currently think is realistic).
Previously the Fed has made the point that its policy settings are not based on assumptions about fiscal policy changes. It follows that if tax cuts deliver a boost of (say) 0.5 per cent to US GDP growth in 2018, the Fed should respond by pushing interest rates up faster than it currently proposes. We could see a rate hike each quarter in 2018 if tax cuts are material.
It is still unclear whether the U.S. will be able to pass a tax reform bill or not, as they are clearly struggling to make the numbers add up. Interest groups are fighting to preserve preferential tax breaks, which could limit the size of any corporate tax cut, but there is huge pressure on the Republicans to pass a bill, perhaps in early 2018.
President Trump might not be too happy to see his appointment to the Fed raising interest rates to offset the impact of tax cuts, but there is not much he can do apart from Tweet.
Tax reform can boost growth if it reduces distortions, but raw tax cuts in an economy already at full employment do not bring much benefit.
hidden
Important Information
Any opinions or views expressed in this material are those of the author and third parties identified, and not those of OCBC Bank (Malaysia) Berhad ("OCBC Bank", which expression shall include OCBC Bank's related companies or affiliates).
The information provided herein is intended for general circulation and/or discussion purposes only and does not contain a complete analysis of every material fact. It does not take into account the specific investment objectives, financial situation or particular needs of any particular person. Without prejudice to the generality of the foregoing, please seek advice from a financial adviser regarding the suitability of any investment product taking into account your specific investment objectives, financial situation or particular needs before you make a commitment to purchase the investment product.
In the event that you choose not to seek advice from a financial adviser, you should consider whether the product in question is suitable for you. This does not constitute an offer or solicitation to buy or sell or subscribe for any security or financial instrument or to enter into a transaction or to participate in any particular trading or investment strategy.
OCBC Bank, its related companies, their respective directors and/or employees (collectively 'Related Persons') may have positions in, and may effect transaction in the products mentioned herein. OCBC Bank may have alliances with the product providers, for which OCBC Bank may receive a fee. Product providers may also be Related Persons, who may be receiving fees from investors. OCBC Bank and the Related Person may also perform or seek to perform broking and other financial services for the product providers.
All information presented is subject to change without notice. OCBC Bank shall not be responsible or liable for any loss or damage whatsoever arising directly or indirectly howsoever in connection with or as a result of any person acting on any information provided herein. The information provided herein may contain projections or other forward-looking statements regarding future events or future performance of countries, assets, markets or companies. Actual events or results may differ materially. Past performance figures are not necessarily indicative of future or likely performance. Any reference to any specific company, financial product or asset class in whatever way is used for illustrative purposes only and does not constitute a recommendation on the same.
The contents hereof may not be reproduced or disseminated in whole or in part without OCBC Bank's written consent.