Wealth Insights (August 2017)
20 Years After: Asia's Ground Zero
Lai Mun Yew (Michael)
Vice President, Research, Wealth Management, OCBC Bank (Malaysia) Berhad
Member of OCBC Wealth Panel
The Asian Financial Crisis: What Happened?
The attack on the Thai baht by speculators marked the start of the Asian Financial Crisis. The Bank of Thailand exhausted its currency reserves in a futile attempt to defend the currency and as a final measure, cut the baht loose from being pegged to the US Dollar.
What followed was a domino effect, where the currencies of the Asian Tigers were targeted. Indonesia, South Korea, Malaysia and the Philippines saw their economies spiralled downwards.
The Cause and Impact
The crisis was inevitable. Businesses had borrowed heavily to invest in the domestic market, confident that their Dollar pegs would fend off any foreign exchange risk.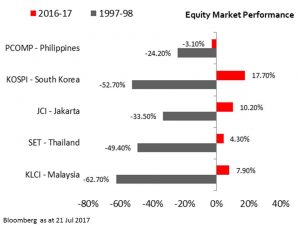 Most Asian economies had massive unhedged Dollar denominated loans and very little Dollar income. These meant businesses were faced with impossibly high debt repayments in its domestic-currency.
Currencies and stock markets tumbled, governments fell and millions pushed into poverty as the macroeconomic imbalance provoked the crisis. Panic stricken investors rushing out of the problem-stricken Thai economy prompted closer scrutiny of risks in other emerging Asian economies and noticed similar weakness. This fuelled capital flight out of the region.
Recovery: How are they doing now?
The International Monetary Fund (IMF) injected a multi-billion-dollar rescue package for Thailand, Indonesia and South Korea, countries that were hit worst.
In exchange for the aid, the IMF introduced financial reforms and economic and government restructuring. Malaysia declined the IMF's offer but instead, imposed stricter capital controls and pegged the Ringgit against the USD at 3.80.
Most of these countries are now on floating exchange rate systems, reducing pressure on central banks to defend currencies at a particular level.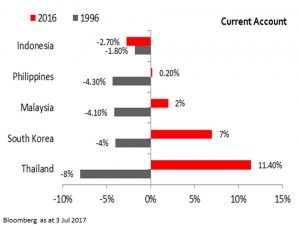 Asia's trade and financial flows (current-account) are much stronger now, with most in a surplus for several years already.
These countries are among the fastest-growing economies in the world, with countries like the Philippines, India and China capable of expanding by at least 6% annually. Governmental and structural reforms have given Asia higher tolerance to external shocks and financial pressures.
Today, Asia's currency reserves are well over $6 trillion, making up more than half of the world's holdings, with China hoarding over $3 trillion. Back in 1996, reserves stood at less than $1 trillion, which was why most central banks were shorthanded when their currencies came under speculative attack.
Look Ahead
Asia looks healthy in 2017, buoyed by a pick-up in global trade and commodity prices. Domestic policy improvements over the past years have also contributed to the region's progress. While we do expect to see pressure on some countries as U.S. raises its interest rate and cost of attracting capital becomes more expensive, it is unlikely to be troublesome for the region.
While growth has never returned to its previous strength before the financial crisis, Asian economies continue to prosper on the back of structural reforms that has pulled them up the global competitiveness rankings, boosting investment levels and growth.
However, we continue to have some worries about the region. Trump has been silent on his anti-trade pledge, but that does not mean that is the last we've heard of it. Asia is also the biggest loser in the moderating global environment amid rising populist sentiment.
We prefer for clients considering investing in Asia to do so via a diversified and balanced portfolio approach. Investors should ensure that they are not overly exposed in any one particular region and are positioned to benefit from rises in the global markets. Investors should also concentrate on economic fundamentals instead of making directional bets on political scenarios or market events.
hidden
Important Information
Any opinions or views expressed in this material are those of the author and third parties identified, and not those of OCBC Bank (Malaysia) Berhad ("OCBC Bank", which expression shall include OCBC Bank's related companies or affiliates).
The information provided herein is intended for general circulation and/or discussion purposes only and does not contain a complete analysis of every material fact. It does not take into account the specific investment objectives, financial situation or particular needs of any particular person. Without prejudice to the generality of the foregoing, please seek advice from a financial adviser regarding the suitability of any investment product taking into account your specific investment objectives, financial situation or particular needs before you make a commitment to purchase the investment product.
In the event that you choose not to seek advice from a financial adviser, you should consider whether the product in question is suitable for you. This does not constitute an offer or solicitation to buy or sell or subscribe for any security or financial instrument or to enter into a transaction or to participate in any particular trading or investment strategy.
OCBC Bank, its related companies, their respective directors and/or employees (collectively 'Related Persons') may have positions in, and may effect transaction in the products mentioned herein. OCBC Bank may have alliances with the product providers, for which OCBC Bank may receive a fee. Product providers may also be Related Persons, who may be receiving fees from investors. OCBC Bank and the Related Person may also perform or seek to perform broking and other financial services for the product providers.
All information presented is subject to change without notice. OCBC Bank shall not be responsible or liable for any loss or damage whatsoever arising directly or indirectly howsoever in connection with or as a result of any person acting on any information provided herein. The information provided herein may contain projections or other forward-looking statements regarding future events or future performance of countries, assets, markets or companies. Actual events or results may differ materially. Past performance figures are not necessarily indicative of future or likely performance. Any reference to any specific company, financial product or asset class in whatever way is used for illustrative purposes only and does not constitute a recommendation on the same.
The contents hereof may not be reproduced or disseminated in whole or in part without OCBC Bank's written consent.