Wealth Insights  (July 2018)
Building fences amidst a cloudy outlook
Lai Mun Yew (Michael), Vice President, Research, Wealth Management, OCBC Bank (Malaysia) Berhad.
Fundamentals are sound for now…
By most gauges, economic fundamentals remain sound. The composite Purchasing Manager Indices (PMIs) – which measures economic activity and business sentiments in the manufacturing and services sectors – across the G3 economies and China, remain firmly within expansionary territory (above 50), even after retreating from 2017 highs.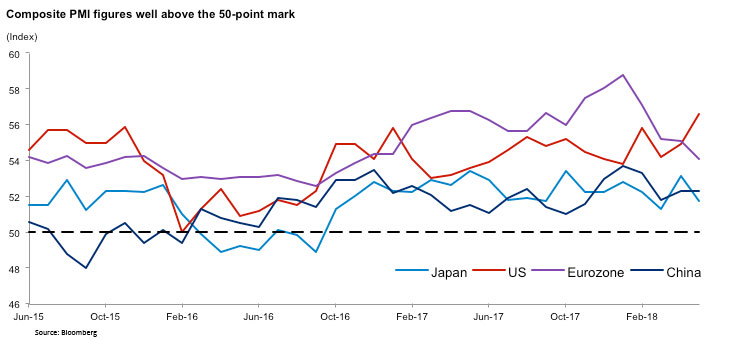 …but trade tensions could darken that outlook
Yet, the escalation of trade tensions remains a key concern. Admittedly, it's rather unlikely that rising trade tensions would upset global trade entirely. In fact, the Trump administration's confirmed trade taxes on the US$50bn worth of Chinese imports may just redistribute trade flows rather than quash it altogether.
But tariffs on the additional US$200bn worth of Chinese goods, should it be implemented, could be disruptive to global supply chains. The risk of retaliation from China through arbitrary regulatory burdens targeted specifically at U.S. firms operating within the country in addition to other government-led consumer boycotts could compound these costs. As yet, the status of these tariffs and other potential retaliatory actions remain unconfirmed and would take some time to be finalised. The situation is highly fluid and we remain very vigilant of the risks this would pose to the outlook.
Monetary policy another key headwind to our outlook
Another potential risk is tighter monetary policy, led chiefly by the Federal Reserve, by far the most consequential central bank in the world. Other central banks in Australia, Canada, the UK, Sweden and Norway are also slowly heading for the exit, having recently signalled intent to raise interest rates. The European Central Bank has moved ahead to lay out a path to exiting crisis-era quantitative easing policy, balanced in part by dovish forward guidance in the form of a commitment to keep interest rates at historical lows, at least until the summer of 2019.
While policy rates in other major developed economies including the Eurozone and Japan remain at record lows and seem likely to stay so for the rest of the year and beyond, higher U.S. rates would inevitably tighten financial conditions.
Disturbing the sound of silence
As it is, the benign investment environment of yesteryear has clearly not extended to 2018. Financial market conditions deteriorated in the first quarter this year, driven in part by the sell-off sparked by fears of a flattening yield curve, the prospect of a nationalist Italian government and therefore the potential risk of an Italian exit and rising trade tensions. Conditions have since recovered as evidenced by the rise in the Bloomberg U.S. financial conditions index to levels above zero. Yet, these risks have not subsided entirely, just that focus has shifted elsewhere. Financial markets have short-term memory and are as quick at shifting focus back on these risks as they are in ignoring them altogether.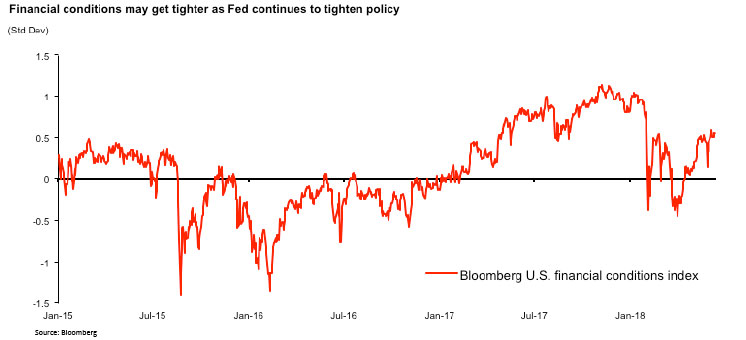 Indeed, the risks persist as the Fed continues to stay on the path of higher interest rates, seemingly unperturbed by escalating trade tensions. Europe's immigration crisis continues to threaten the political continuity of Angela Merkel's coalition in Germany, a far larger risk than Italy. Meanwhile, Trump's bellicose trade related shots over twitter and cable news continues to ratchet up trade tensions.
Hello volatility, my old friend
The result is that after a fairly quiet 2017, volatility – our old friend – has returned with a vengeance. The period of calm in financial markets is likely over, given the risks hanging over the global economy in the form of policy and political uncertainties.
But it's not all bad. There are still opportunities for investors willing to look through short-term noise and focus on long-term fundamentals. It's a matter of building up fences to ensure portfolios are well-insulated against potential ructions in financial markets.
The way forward
General as they may seem, the four points below should help investors navigate potentially turbulent times ahead:
Diversify. This is perhaps the best defence against rising volatility. Investors with too high a concentration in equities may consider increasing allocation to cash that can be deployed when market conditions turn sour. Buying opportunities often arise in turbulent markets and investors should be alert to these prospects. This brings us to our second point.
Stay nimble. As much as investors should be attentive to opportunities as they arise, they should also be quick to cut losses should conditions deteriorate to a point where the cost of staying invested outweighs the long-term benefits.
Focus on investing in quality assets that possess robust balance sheets and good earnings visibility. Do not trade, but invest. The difference may be subtle to some, but the long-run implications are consequential. At the very least, it offers a peace of mind that these assets are better able to ride out tough times and thrive in good times. It's often unwise to sacrifice long-term stability for a purely short-term bump. Just recall the painful episode of the Singapore-Dollar high-yield junk bond defaults in late 2016 if you need to be convinced. To that end, due diligence is utterly essential as is the process of review and rebalancing your investment portfolio.
Looking ahead, active management will take on greater importance as the stakes in the investment environment gets higher and more severe. For investors hard pressed for the time to manage their portfolios actively, a better way forward might be to seek exposure to adequately-diversified funds with well-defined investment mandates that are managed by investment professionals with strong track-records. For others, it might just be tweaking your own asset allocations to ensure it is sufficiently defensive to withstand potential ructions ahead.
Indeed, there are many ways to build hedges and diversify portfolios. If there were such a thing as a right time for financial advice, it would be now.
hidden
Important Information
Any opinions or views expressed in this material are those of the author and third parties identified, and not those of OCBC Bank (Malaysia) Berhad ("OCBC Bank", which expression shall include OCBC Bank's related companies or affiliates).
The information provided herein is intended for general circulation and/or discussion purposes only and does not contain a complete analysis of every material fact. It does not take into account the specific investment objectives, financial situation or particular needs of any particular person. Without prejudice to the generality of the foregoing, please seek advice from a financial adviser regarding the suitability of any investment product taking into account your specific investment objectives, financial situation or particular needs before you make a commitment to purchase the investment product.
In the event that you choose not to seek advice from a financial adviser, you should consider whether the product in question is suitable for you. This does not constitute an offer or solicitation to buy or sell or subscribe for any security or financial instrument or to enter into a transaction or to participate in any particular trading or investment strategy.
OCBC Bank, its related companies, their respective directors and/or employees (collectively 'Related Persons') may have positions in, and may effect transaction in the products mentioned herein. OCBC Bank may have alliances with the product providers, for which OCBC Bank may receive a fee. Product providers may also be Related Persons, who may be receiving fees from investors. OCBC Bank and the Related Person may also perform or seek to perform broking and other financial services for the product providers.
All information presented is subject to change without notice. OCBC Bank shall not be responsible or liable for any loss or damage whatsoever arising directly or indirectly howsoever in connection with or as a result of any person acting on any information provided herein. The information provided herein may contain projections or other forward-looking statements regarding future events or future performance of countries, assets, markets or companies. Actual events or results may differ materially. Past performance figures are not necessarily indicative of future or likely performance. Any reference to any specific company, financial product or asset class in whatever way is used for illustrative purposes only and does not constitute a recommendation on the same.
The contents hereof may not be reproduced or disseminated in whole or in part without OCBC Bank's written consent.