Equities (November 2018)
Asia Offers Opportunities
"Attractive valuations continue to raise the appeal for Asia ex-Japan."
– Teh Chi-Cheun, CEO and Executive Director, Pacific Mutual Fund Bhd, Member of OCBC Wealth Panel
Looking ahead, we continue to see two key macro drivers for equity markets: the global growth trajectory and the pace of US inflation. With core inflation already at its 2% target, the Fed's policy normalisation should continue and maintain the same pace. Any meaningful change in the inflation outlook would impact the market's expected pace of normalisation.
Meanwhile, uncertainties from geopolitical developments would continue to weigh on the growth outlook and investor confidence. Given expectations of rising interest rates, we maintain the view that earnings multiples for global equities have peaked.
Nevertheless, valuations are relatively less demanding following the sell-off and provide some breathing room.
United States
Mounting concerns over the earnings growth outlook for US corporates and rising interest rates seem to be the main triggers for the latest risk-off stance in the US. Not surprisingly, defensives outperformed. This is despite the earnings beat and slight 2018 consensus EPS upgrade in October so far.
As highlighted last month, given the strong year-to-date performance and extended valuations, growth expectations had become tough to beat. Consensus 2019 EPS growth forecast is marginally lower at 9.9% (versus 10.6% a month ago), reflecting upgrades for 2018 earnings (consistent with the results beat) but a more muted outlook for 2019.
In addition to potential cost pressures largely driven by the trade tariffs, the strengthening US Dollar added headwind to the growth outlook.
Eurozone
A mix of concerns over trade, Brexit and the Italian budget weighed on European equities. A slew of high profile corporate profit warnings did not help either.
It is still early days, but the earnings season so far has been disappointing. Through October, consensus 2019 EPS growth forecast has shifted slightly from 9.6% to 9.9%.
Fundamentally, the ongoing economic recovery remains intact and valuations are closer to neutral levels. Besides US-led trade war, geopolitical events remain key risks to derailing the recovery.
Japan
Japanese equities were not spared from the rising scepticism on global growth and the stronger JPY did not help. The positive earnings season so far provided little relief.
Several near-term factors, such as continued gradual improvements in earnings outlook, could provide support although a more sustained re-rating of the market would require more meaningful structural reform.
Asia ex-Japan
Asia Ex-Japan came under intense selling pressure in October. Supportive comments from the Chinese authorities provided little reprieve as concerns with global growth outlook further unsettled investor confidence. Consensus EPS continued to be downgraded in October.
Overall, this supports the view that markets are discounting a more protracted and disruptive US-China
tension.
However, Asia Ex-Japan valuations have shifted toward undervalued zone given the sharp sell-off since the highs in January. As such, we see more favourable risk-reward for the region. Beside quantitative easing unwinding, rising interest rates and worsening row between the US and China are key risks for the region.
We believe that Asian equities now offer a level of opportunity that justifies the risk, despite the poor performance so far this year. These markets have been punished rather severely as we move deeper into the late-cycle stage of economic growth.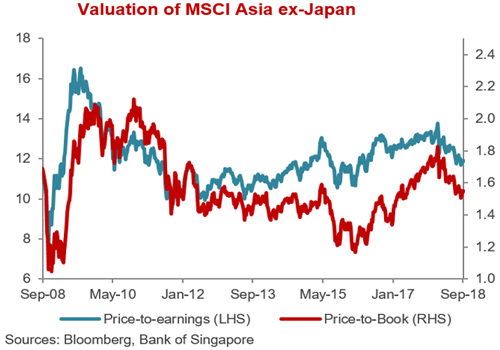 Emerging markets (EM) have been hit by a series of country-specific shocks and tightening financial conditions have put further pressure on those with the greatest external vulnerabilities.
We see room for a recovery, especially in equities. China's economy looks resilient, EM fundamentals are generally robust, and we may be near a peak in idiosyncratic risks. Valuations look undemanding. We haven't lost confidence in Asia, where economic strength is starting to translate into sustained strong earnings growth. The recent sell-off has restored a lot of value, and EM equities are now trading at a large discount to developed market equities.
The Asian economic and earnings backdrop is encouraging, with near-term resilience in China despite slower credit growth. We like selected Southeast Asian markets but also recognise that a worse-thanexpected Chinese slowdown or disruptions in global trade would pose risks to the entire region.
Singapore
At 11.5x forward price-to-earnings ratio, the MSCI Singapore Index is trading at minus one standard deviation (1SD) below the 10-year average. The last two periods when the index slipped below -1SD, the market took about 6 to 12 months to recover above -1SD.
While we expect the November/December to be a typical year-end lull period. For patient and value investors, the recent steep correction in the market is starting to present good opportunities to buy into quality big-cap stocks with steady earnings growth and good dividend yield of more than 4%.
hidden
Important Information
Any opinions or views expressed in this material are those of the author and third parties identified, and not those of OCBC Bank (Malaysia) Berhad ("OCBC Bank", which expression shall include OCBC Bank's related companies or affiliates).
The information provided herein is intended for general circulation and/or discussion purposes only and does not contain a complete analysis of every material fact. It does not take into account the specific investment objectives, financial situation or particular needs of any particular person. Without prejudice to the generality of the foregoing, please seek advice from a financial adviser regarding the suitability of any investment product taking into account your specific investment objectives, financial situation or particular needs before you make a commitment to purchase the investment product.
In the event that you choose not to seek advice from a financial adviser, you should consider whether the product in question is suitable for you. This does not constitute an offer or solicitation to buy or sell or subscribe for any security or financial instrument or to enter into a transaction or to participate in any particular trading or investment strategy.
OCBC Bank, its related companies, their respective directors and/or employees (collectively 'Related Persons') may have positions in, and may effect transaction in the products mentioned herein. OCBC Bank may have alliances with the product providers, for which OCBC Bank may receive a fee. Product providers may also be Related Persons, who may be receiving fees from investors. OCBC Bank and the Related Person may also perform or seek to perform broking and other financial services for the product providers.
All information presented is subject to change without notice. OCBC Bank shall not be responsible or liable for any loss or damage whatsoever arising directly or indirectly howsoever in connection with or as a result of any person acting on any information provided herein. The information provided herein may contain projections or other forward-looking statements regarding future events or future performance of countries, assets, markets or companies. Actual events or results may differ materially. Past performance figures are not necessarily indicative of future or likely performance. Any reference to any specific company, financial product or asset class in whatever way is used for illustrative purposes only and does not constitute a recommendation on the same.
The contents hereof may not be reproduced or disseminated in whole or in part without OCBC Bank's written consent.