Equities (November 2017)
Don't Lower Your Guard
"We remain cautious on equities, as we view that global monetary policies would be increasingly less dovish, led by the unprecedented U.S. central bank unwinding and potential rate hikes."
– Teh Chi-cheun, CEO and Executive Director, Pacific Mutual Fund Bhd; Member of OCBC Wealth Panel
The global risk rally continued in October with Asia Ex-Japan leading the equities charge. In particular, Asia Ex-Japan, which underperformed in September, benefited from expanding global growth expectations and investor confidence.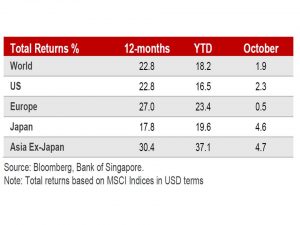 Taking the view that global monetary policies would be increasingly less dovish, led by the unprecedented U.S. central bank unwinding and potential rate hikes, we remain cautious and continue to advocate a rotation strategy. Also, extended valuations provide limited support in any sell-offs. We continue to prefer the U.S. and Europe over Japan and Asia ex-Japan.
United States
U.S. equities extended its rally as the reflation trade gained pace in October, following the earlier release of the 'Big 6' tax reform framework. The market seems to expect some form of tax reform passed by 1Q2018. In fact, US Treasury Secretary Steven Mnuchin said that the market has priced in expectations that the Trump administration and Congress will successfully pass tax reform and would see a significant reversal of those gains if otherwise.
Eurozone
Although economic growth indicators out of the Eurozone continue to be positive, the region underperformed in October as investor-focus shifted to the next ECB meeting, and, to a lesser extent, the political risk in Spain. At the same time, the improving macroeconomic outlook means that pressure for the central bank to start phasing out its quantitative easing would intensify. Near-term, financial market movements could still be dictated by clues on the ECB's next move. We see a less dovish central bank as the economic recovery continues to gain pace. We maintain a neutral stance here.
Japan
Japanese equities rallied further as foreign investors return after the victory for PM Shinzo Abe indicates that Japan's loose monetary policy will continue. Despite the incumbent's landslide win, the latest move is not expected to result in major economic policy changes. The economy is in a decent state but sustained re-rating of the market would require more meaningful structural reform to boost restrained wages and overall growth. Hence, besides near-term euphoria, we see macro factors and movements of the yen to remain key drivers here.
Asia ex-Japan
Riding on the global risk trade, Asia Ex-Japan led the rally in equities in October. North Asian markets, led by Korea and Taiwan, were the biggest beneficiaries and ASEAN market continued to underperform. China, the best performing market year-to-date, bounced back from the profit-taking wave in September. Expectations and valuations are increasingly discounting a faster growth trajectory for the region. Also, macro risk factors, such as the trade war risk between China and the U.S. and potential impact of the unprecedented global central bank unwinding further ahead, persist.
Singapore
Singapore equities moved in line with Asian equities last month, with strong outperformance by property developers. Helped by a recent spate of deals, en bloc sales fever in Singapore have hit a 10-year high this year. Further to our call since last year to invest in property developers which were trading at attractive valuations, sector share prices have rallied year-to-date on positive sentiment over en bloc news flow and improving data points. Our view on the Singapore residential market remains positive over the medium term, with home prices likely to have marked their cyclical lows in mid-June this year. A gradual recovery looks underway towards our forecast for physical residential price to appreciate 3 to 8 per cent in 2018.
hidden
Important Information
Any opinions or views expressed in this material are those of the author and third parties identified, and not those of OCBC Bank (Malaysia) Berhad ("OCBC Bank", which expression shall include OCBC Bank's related companies or affiliates).
The information provided herein is intended for general circulation and/or discussion purposes only and does not contain a complete analysis of every material fact. It does not take into account the specific investment objectives, financial situation or particular needs of any particular person. Without prejudice to the generality of the foregoing, please seek advice from a financial adviser regarding the suitability of any investment product taking into account your specific investment objectives, financial situation or particular needs before you make a commitment to purchase the investment product.
In the event that you choose not to seek advice from a financial adviser, you should consider whether the product in question is suitable for you. This does not constitute an offer or solicitation to buy or sell or subscribe for any security or financial instrument or to enter into a transaction or to participate in any particular trading or investment strategy.
OCBC Bank, its related companies, their respective directors and/or employees (collectively 'Related Persons') may have positions in, and may effect transaction in the products mentioned herein. OCBC Bank may have alliances with the product providers, for which OCBC Bank may receive a fee. Product providers may also be Related Persons, who may be receiving fees from investors. OCBC Bank and the Related Person may also perform or seek to perform broking and other financial services for the product providers.
All information presented is subject to change without notice. OCBC Bank shall not be responsible or liable for any loss or damage whatsoever arising directly or indirectly howsoever in connection with or as a result of any person acting on any information provided herein. The information provided herein may contain projections or other forward-looking statements regarding future events or future performance of countries, assets, markets or companies. Actual events or results may differ materially. Past performance figures are not necessarily indicative of future or likely performance. Any reference to any specific company, financial product or asset class in whatever way is used for illustrative purposes only and does not constitute a recommendation on the same.
The contents hereof may not be reproduced or disseminated in whole or in part without OCBC Bank's written consent.