19 November 2018
OCBC Malaysia Outlook: Growth slows further albeit only slightly
Selena Ling, Head, Treasury Research & Strategy, OCBC Bank, Member of OCBC Wealth Panel
Highlights:
Growth slowed for 3Q 2018 at 4.4% yoy from 4.5% yoy the previous quarter.
Current account slightly narrowed to 1.04% of GDP for the quarter from 1.12% of GDP in the prior quarter.
Private consumption was again the main driver and grew at an astounding rate of 9.0% yoy amid the tax holiday.
We expect the 4Q 2018 to come out at 4.2% yoy and entire year growth to be at 4.6% yoy.
GDP growth slowed further for 3Q 2018 at 4.4% yoy (2Q 2018: 4.5% yoy) as the mining and quarrying sector continued to struggle whilst private consumption surged. The growth this quarter is the slowest it has been since the 3Q 2016 when the economy grew at 4.3% yoy. Private consumption as usual was the biggest contributor to growth followed on by fixed investment. Government consumption expanded positively this time around but net exports saw a decline.
It came though as little surprise that private consumption grew at an astounding rate of 9.0% yoy (2Q 2018: 8.0% yoy). The quarter saw a tax holiday for two out of three months as GST was abolished and SST was only introduced starting from 1st September 2018. Hence, consumers probably frontloaded expenditure for the year. However, as a result of this and with few factors to boost private consumption for the remainder of the year, this would obviously mean that it would most probably ease in the final quarter. We are expecting growth for this category to be at 5.0% yoy.
There were still weaknesses in the commodities sector for the quarter. The mining and quarrying sector continuing to struggle as it further declined by 4.6% yoy (2Q 2018: -2.2% yoy). Production of crude oil & condensate and natural gas continued. The agricultural sector also saw a decline of 1.4% yoy but this decrease was lower than the prior quarter (2Q 2018: -2.5% yoy). However, the palm oil sector continued to see weaknesses. The central bank had already earlier warned in their November monetary policy statement of "prolonged weakness in the mining and agriculture sectors". Hence, we remain wary of these sectors going into the final
quarter.
Net exports declined this quarter by 7.5% yoy (2Q 2018: 1.7% yoy) as exports declined by 0.8% yoy (2Q 2018: 2.0% yoy). This occurred as commodities exports continued to see a contraction albeit smaller at 3.0% yoy (2Q 2018: -3.8% yoy). Crude palm oil exports continued to decline whist growth in exports of mineral resources, particularly in crude petroleum improved. However, non E&E exports particularly in petroleum products did moderate. E&E exports growth was stronger at 10.7% yoy (2Q 2018: 9.8% yoy). Going forward, as mentioned in the previous, it is difficult to just immediately see a pick-up in the commodities sector given the statement from BNM and therefore, exports may not significantly pick-up in the final quarter.
The silver lining for the quarter is that growth of gross fixed capital formation actually accelerated to 3.2% yoy (2Q 2018: 2.2% yoy).
Furthermore, this growth was driven by private sector investment which continued to grow strongly at 6.9% yoy (2Q 2018: 6.1% yoy) whilst public sector investment continued to decline by 5.5% yoy (2Q 2018: -9.8% yoy). The latter was probably due to the ongoing fiscal consolidation taking place. It is interesting to see that private investment continued to grow even as the MIER business condition index declined this quarter to 108.8 (2Q 2018: 116.3) although it continues to remain at the optimistic level. Going forward, investment may still exhibit some strength although there are certainly risks such as global uncertainty that could mean growth may not be as strong.
The current account slightly narrowed to 1.04% of GDP for the quarter (2Q 2018: 1.12% of GDP).
This was mainly the result of the primary income account recording a larger deficit at RM15.0bn (2Q 2018: -RM11.2bn) due to profits being earned by foreign investors in Malaysia outpacing that earned by Malaysian firms abroad, especially in the mining and manufacturing sector. The goods surplus did expand to RM26.6bn (2Q 2018: RM26.1bn) due to higher E&E exports.
For the final quarter, we are now expecting growth to moderate to 4.2% yoy which means we forecast the entire year growth to come out at 4.6% yoy.
The main driver of this slowdown would obviously be that we foresee private consumption growth slowing down significantly as the tax holiday comes to an end and consumers had frontloaded expenditure in the previous quarter. Exports will probably see some recovery although not significantly whilst investment growth should still continue to exhibit some strength.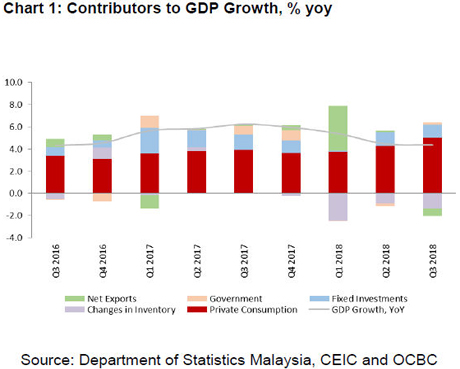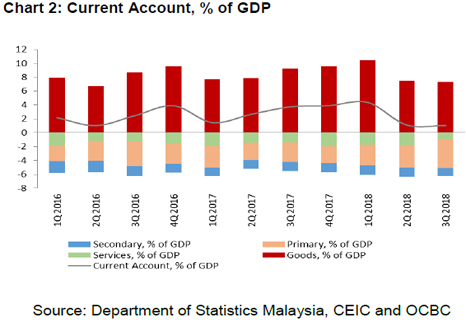 hidden
Important Information
This material is not intended to constitute research analysis or recommendation and should not be treated as such.
Any opinions or views expressed in this material are those of the author and third parties identified, and not those of OCBC Bank (Malaysia) Berhad ("OCBC Bank", which expression shall include OCBC Bank's related companies or affiliates). OCBC Bank does not verify or endorse any of the opinions or views expressed in this material. You should beware that all opinions and views expressed are subject to change without notice, and OCBC Bank does not undertake the responsibility to update anyone with any changes to the opinions and views expressed.
The information provided herein is intended for general circulation and/or discussion purposes only and does not contain a complete analysis of every material fact. It does not take into account the specific investment objectives, financial situation or particular needs of any particular person. Without prejudice to the generality of the foregoing, please seek advice from a financial adviser regarding the suitability of any investment product taking into account your specific investment objectives, financial situation or particular needs before you make a commitment to purchase the investment product. In the event that you choose not to seek advice from a financial adviser, you should consider whether the product in question is suitable for you.
OCBC Bank is not acting as your adviser. This material is provided based on OCBC Bank's understanding that (1) you have sufficient knowledge, experience and access to professional advice to make your own evaluation of the merits and risks of any investment product and (2) you are not relying on OCBC Bank or any of its representatives or affiliates for information, advice or recommendations of any sort except for specific factual information about the terms of the transaction proposed. This does not identify all the risks or material considerations that may be associated with any of the investment products. Prior to purchasing the investment product, you should independently consider and determine, without reliance upon OCBC Bank or its representatives or affiliates, the economic risks and merits, as well as the legal, tax and accounting characterisations and consequences of the investment product and that you are able to assume these risks.