Author: Johan Jooste, Chief Investment Officer, Bank of Singapore, Member of OCBC Wealth Panel
Tax reform is back as the market's near term focus.
GOP lawmakers in the House of Representatives passed a bill last week that would lower corporate taxes to their lowest level since 1939 and cut individual taxes for most households in 2018.
A companion bill in the Senate may prove more difficult to pass, however. In the 100-seat Senate, Republicans can lose no more than two votes from their 52-48 majority if they hope to enact tax reform.
The Senate version has already faced criticism from several Republican lawmakers because of what is seen as unequal rates for small businesses and non-corporate enterprises known as "pass-throughs" versus corporations.
A final bill is due to be passed by year's end.
The implementation deadline is ambitious and the actual scope of changes cannot be assessed just yet. This makes it much more worthwhile to watch than Donald Trump's visit to Asia, which appears to have avoided any major blunders.
Treasury yields have backed up over the past week as some fears begin to surface about how sustainable tax breaks are from a policy point of view.
Does the U.S, economy really need additional stimulus at this stage? How would the Fed react? Some inflation may ensue, causing the Federal Reserve to take into account fiscal policy for the first time in a while.
As we approach the final Fed policy meeting in mid-December, our view is that the Fed will hike this time, and follow it up with three more times next year.
This view is slightly closer to market consensus than it has been, and partly due to rising concern about inflation. Admittedly, inflation has not really been a market factor for a while, but the steady growth in the U.S., a tighter labour market and now the possibility of fiscal stimulus have brought it back into discussion.
Risk markets had a slightly less buoyant ride recently, as credit spreads widened out somewhat and equity markets paused for breath after a good spell.
It is perhaps not too much of a surprise that the credit market is showing signs of fatigue. Credit generally is still the beneficiary of solid technical factors: strong liquidity (demand) and momentum.
Fundamentally, the lack of defaults remains a major plus. But, continued spread tightening does pose a potential medium-term risk. The market is not offering much by way of further capital gains, and the spread pick-up over government bonds is touching record low levels in many market segments.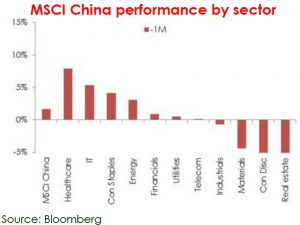 Equities: Rotation strategies in China
Xi's government will likely focus on financial deleveraging, poverty reduction and environmental protection (higher environmental standards for manufacturing) in 2018-2020. We are constructive on the consumption, environmental protection and information technology sectors but cautious on real estate sector.
While IT will offer medium and long-term structural solid growth, investors will have to be mindful of the valuations. We view any share price pullback in the IT sector as potential accumulation opportunities.
Fixed income: Shorten duration
Key portfolio actions include reducing overall portfolio duration and a move up in credit quality.
Foreign exchange: U.S. Dollar's medium term outlook murky
As long as the market can hold on to hope for some mix of tax cuts and a more hawkish Fed composition, we suspect the greenback can firm going into the year-end.
However, there are limits to any U.S. Dollar bounce. But the U.S. Dollar's medium-term outlook is increasingly murky and could give way to a more meaningful U.S. Dollar downtrend in two or three years' time.
We suggest investors avoid concentrated, long U.S. Dollar exposure.
Commodities: Oil supported by tight supply
Growth in demand for oil remains sluggish, but prices have been supported by two areas where supply has been surprisingly tight. First, OPEC discipline is holding. Second, U.S. shale drilling has slipped. We doubt this will continue.
Asset Allocation
Markets are at a crossroad with good growth but stretched valuations. We suggest investors stay slightly defensive.
 Use this time as an opportunity to do a portfolio health check: Remember to diversify strategically, de-risk tactically and de-lever as needed.
hidden
Important Information
This material is not intended to constitute research analysis or recommendation and should not be treated as such.
Any opinions or views expressed in this material are those of the author and third parties identified, and not those of OCBC Bank (Malaysia) Berhad ("OCBC Bank", which expression shall include OCBC Bank's related companies or affiliates). OCBC Bank does not verify or endorse any of the opinions or views expressed in this material. You should beware that all opinions and views expressed are subject to change without notice, and OCBC Bank does not undertake the responsibility to update anyone with any changes to the opinions and views expressed.
The information provided herein is intended for general circulation and/or discussion purposes only and does not contain a complete analysis of every material fact. It does not take into account the specific investment objectives, financial situation or particular needs of any particular person. Without prejudice to the generality of the foregoing, please seek advice from a financial adviser regarding the suitability of any investment product taking into account your specific investment objectives, financial situation or particular needs before you make a commitment to purchase the investment product. In the event that you choose not to seek advice from a financial adviser, you should consider whether the product in question is suitable for you.
OCBC Bank is not acting as your adviser. This material is provided based on OCBC Bank's understanding that (1) you have sufficient knowledge, experience and access to professional advice to make your own evaluation of the merits and risks of any investment product and (2) you are not relying on OCBC Bank or any of its representatives or affiliates for information, advice or recommendations of any sort except for specific factual information about the terms of the transaction proposed. This does not identify all the risks or material considerations that may be associated with any of the investment products. Prior to purchasing the investment product, you should independently consider and determine, without reliance upon OCBC Bank or its representatives or affiliates, the economic risks and merits, as well as the legal, tax and accounting characterisations and consequences of the investment product and that you are able to assume these risks.