21 Aug 2017
Your Weekly Market Focus
 Suffering From Brexit
Author: Richard Jerram, Chief Economist, Bank of Singapore, Member of OCBC Wealth Panel
The British government is starting to produce more details of its plans for Brexit as it heads into another round of negotiations. The lack of practical proposals shows that the process is still in its infancy, more than a year after the referendum. The uncertainty is already starting to hurt the economy.
Most seem to accept that a transitional arrangement will be necessary, as the terms of exit are too complicated to be settled by March 2019. Moreover, negotiations on trade access cannot begin until the UK has left the European Union (EU).
However, there is no clarity on what a temporary trade deal might involve, let alone a permanent one. The government's lack of a realistic plan was evident in a recent paper (here) and the process will probably be driven by whatever is acceptable to the EU.
For the UK, a serious problem is that the EU wants agreement on the divorce bill, the rights of Europeans living in the UK and the border with Ireland before it will talk about the future relationship with the UK. All of these issues are extremely divisive in British politics, with no evidence of a clear, workable policy. The inconclusive UK election in June has further confused matters and British negotiators appear to have unobtainable targets, often with an apparent lack of understanding of core issues.
There is even a persistent hope in some areas that the UK could hold another referendum to reverse the process. The first vote generated so much ill-feeling that going through it again in a re-run looks unlikely. However, growing recognition of the complexity and costs of Brexit argues for maintaining relatively close ties with the EU.
The concern is that the lack of clarity on post-exit relations with the EU generates uncertainty that hurts economic growth. A British firm that exports to the EU might wonder about the best location for its next investment. A French citizen might hesitate to buy London property if he is unsure about residency rights. Already we are seeing financial institutions setting up alternatives to UK operations.
The impact on the real estate market is starting to be evident. Mortgage approvals have flattened out and London property prices are stagnant, but so far no worse.
The overall damage from the Brexit vote in mid-2016 was lessened by the sharp fall in GBP, which helped the export sector. So far the economic performance is mixed, but not terrible.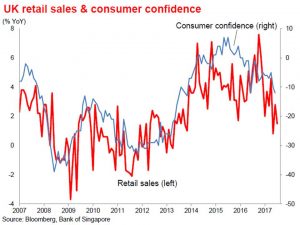 The consumer is struggling, probably because higher inflation (partly due to the weaker exchange rate) has squeezed spending power, which has hurt retail sales and confidence. However, business conditions are still reasonable and solid labour demand has pulled the unemployment rate to the lowest level in decades.
As with the housing market, the overall economic situation appears to be stalling as we await more clarity on Brexit. This could drag through 2018.
The Bank of England has recently shown signs of wavering from its stance of tolerating an inflation overshoot due to fears about the downside risks to growth. However, an early interest rate hike is hard to justify and we expect a continued wait-and-see approach. GBP looks cheap, but it is vulnerable and there is the danger of a final leg down if (when?) Brexit negotiations turn messy.
hidden
Important Information
This material is not intended to constitute research analysis or recommendation and should not be treated as such.
Any opinions or views expressed in this material are those of the author and third parties identified, and not those of OCBC Bank (Malaysia) Berhad ("OCBC Bank", which expression shall include OCBC Bank's related companies or affiliates). OCBC Bank does not verify or endorse any of the opinions or views expressed in this material. You should beware that all opinions and views expressed are subject to change without notice, and OCBC Bank does not undertake the responsibility to update anyone with any changes to the opinions and views expressed.
The information provided herein is intended for general circulation and/or discussion purposes only and does not contain a complete analysis of every material fact. It does not take into account the specific investment objectives, financial situation or particular needs of any particular person. Without prejudice to the generality of the foregoing, please seek advice from a financial adviser regarding the suitability of any investment product taking into account your specific investment objectives, financial situation or particular needs before you make a commitment to purchase the investment product. In the event that you choose not to seek advice from a financial adviser, you should consider whether the product in question is suitable for you.
OCBC Bank is not acting as your adviser. This material is provided based on OCBC Bank's understanding that (1) you have sufficient knowledge, experience and access to professional advice to make your own evaluation of the merits and risks of any investment product and (2) you are not relying on OCBC Bank or any of its representatives or affiliates for information, advice or recommendations of any sort except for specific factual information about the terms of the transaction proposed. This does not identify all the risks or material considerations that may be associated with any of the investment products. Prior to purchasing the investment product, you should independently consider and determine, without reliance upon OCBC Bank or its representatives or affiliates, the economic risks and merits, as well as the legal, tax and accounting characterisations and consequences of the investment product and that you are able to assume these risks.