24 April 2017
Your Weekly Market Focus
With Pollsters Getting It Right, Some Event Risks Are Fading
Author: Johan Jooste, Chief Investment Officer, Bank of Singapore, Member of OCBC Wealth Panel
With round one of the French presidential elections out of the way, a prime source of event risk has gone away. For a change, the pollsters got it right.  That leads us to assume that round two will follow form as well, and that the right-wing populist threat of Ms Le Pen will not materialise.
Exit opinion polls point to Macron and Le Pen progressing to the second round of the French presidential election on 7 May. This is not the most EUR-positive outcome of Macron versus Fillon (Centrist vs Centre Right), which eliminates the EMU exit risk. But it is nevertheless a relief that the most EUR-negative outcome of Le Pen vs Melenchon (Far Right vs Far Left) is avoided because both candidates oppose EU/EMU orthodoxy.
Frexit risks remain low because of the difficulties in getting parliamentary support to call for a referendum on EU.
That said, we view markets to be in a consolidation phase. Upside is capped partly by geopolitical risk and Trump's inability to make any economic reforms. But more importantly, the direction of markets has been determined by economic momentum. While the rise in markets was largely due to the improving economic cycle from November last year, the consolidation now is due to economic momentum moderating.
The big question is how much markets will move as the economic cycle moderates. There is no fool-proof method to predict how much markets correct during periods of economic moderation. One way is to look historically at how the S&P 500 performed when growth moderates.
In Chart 1, we plot the experience of the past 7 years using the widely-accepted Citi US Economic Surprise Index. The finding is that large market drawdowns of more than 10 per cent are uncommon (see Table 1). The only time that there was a large market sell-off due to this measure of economic slowdown was in 2010.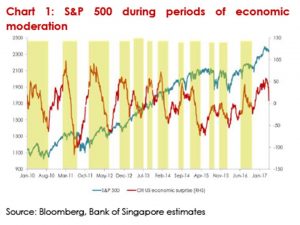 We conclude that while the moderation in growth is likely to persist for the next few quarters, the downside to markets from this source only is limited. Combined with our view that valuations are stretched to the point where it is pricing in more or less all the good news, leads us to maintain our broadly cautious stance in equity markets.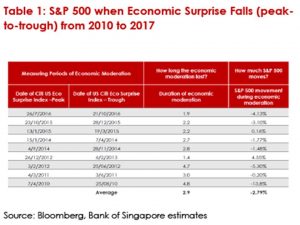 Currency update: Don't chase the GBP rally.  Initial GBP bullish reaction to an early UK election looks overdone. The early elections should result in a larger Tory majority and might strengthen PM May's bargaining position ahead of the Brexit negotiations. But we doubt it would lead to a softer Brexit stance or make EU give UK a better deal.
Indeed, the EU leadership will likely stick to its strategy of making an example of the UK and try to discourage any other members from leaving.
We are not keen to chase the GBP rally, but would accumulate if GBPUSD dips to 1.20 and below.
hidden
Important Information
This material is not intended to constitute research analysis or recommendation and should not be treated as such.
Any opinions or views expressed in this material are those of the author and third parties identified, and not those of OCBC Bank (Malaysia) Berhad ("OCBC Bank", which expression shall include OCBC Bank's related companies or affiliates). OCBC Bank does not verify or endorse any of the opinions or views expressed in this material. You should beware that all opinions and views expressed are subject to change without notice, and OCBC Bank does not undertake the responsibility to update anyone with any changes to the opinions and views expressed.
The information provided herein is intended for general circulation and/or discussion purposes only and does not contain a complete analysis of every material fact. It does not take into account the specific investment objectives, financial situation or particular needs of any particular person. Without prejudice to the generality of the foregoing, please seek advice from a financial adviser regarding the suitability of any investment product taking into account your specific investment objectives, financial situation or particular needs before you make a commitment to purchase the investment product. In the event that you choose not to seek advice from a financial adviser, you should consider whether the product in question is suitable for you.
OCBC Bank is not acting as your adviser. This material is provided based on OCBC Bank's understanding that (1) you have sufficient knowledge, experience and access to professional advice to make your own evaluation of the merits and risks of any investment product and (2) you are not relying on OCBC Bank or any of its representatives or affiliates for information, advice or recommendations of any sort except for specific factual information about the terms of the transaction proposed. This does not identify all the risks or material considerations that may be associated with any of the investment products. Prior to purchasing the investment product, you should independently consider and determine, without reliance upon OCBC Bank or its representatives or affiliates, the economic risks and merits, as well as the legal, tax and accounting characterisations and consequences of the investment product and that you are able to assume these risks.