Tailored solutions to maximise your wealth
Deposits
Meet your savings goals and enjoy attractive interest rates with our deposit accounts.

Premier Booster Account
With the high interest rate it offers on your savings, the Premier Booster Account is an excellent way of making your money work harder for you.
Investments
Get options that are not available to retail investors tailored for you as a High Net Worth Investor.
Disclaimer:
The information in this website has not been reviewed by the Securities Commission Malaysia.

Managed Investments
Managed funds (such as Unit Trust) offer flexibility and diversification benefits to your portfolio. Gain access to various markets and asset classes that are managed by professional managers.

Structured Products
Customisable to the different needs and objectives of investors. This strategy leverages on derivatives based on underlying securities such as equities to capture market opportunities.

Bonds
Bonds offer the opportunity to diversify your investments and earn yields that are higher than from bank deposits. They offer a steady stream of passive income from periodic interest payments, normally on an annual or semi-annual basis.

OCBC Wealth Account
Oversee your portfolios easily and have a holistic view of your wealth. You will be able to instantly track the performance of your investments to help you review your cashflow and returns better.

Learn more
Financing
Whether you are purchasing a new property, refinancing an existing loan, or even considering getting liquidity without selling your assets, we offer a variety of financing options, so you can be assured that every investment you make paves the way for the next.

Home Financing
Premier Housing Loan
Enjoy exclusive Premier privileges when you sign up for an OCBC Home Loan.
Overseas Property Financing (OPF)
Choose to take up our financing solution in Malaysian Ringgit (MYR), Great Britain Pound Sterling (GBP) or Australian Dollar (AUD), depending on your financial and cash flow requirements.
OPF is for Malaysian residents only.

Wealth Financing
Enjoy a diverse range of financing options that allows you to borrow against the value of your investment portfolio or a credit facility to leverage your cash collaterals for investment in approved investment products.
Legacy Planning
Leave a legacy for your loved ones without compromising your lifestyle or business.
We offer universal life insurance plans from Great Eastern Life Assurance (Malaysia) Berhad to meet your wealth legacy needs.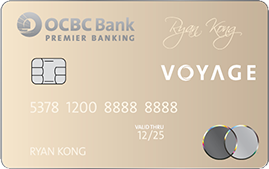 Credit and debit cards
Credit and debit cards
OCBC Premier Voyage
Discover the world with Malaysia's first metal card, which earns you Voyage Miles every time you spend. Experience a new dimension of travel with Voyage Miles that never expires, along with four times access to Plaza Premium Lounge at KLIA in a year, 0% foreign currency mark-up and complimentary travel insurance up to USD 1 million. Top this off with Voyage Exchange, a world class concierge service and you are all set for a world of privileges.
Learn more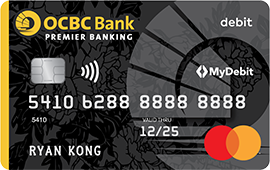 OCBC Premier Debit Card
Enjoy full control over your funds with a globally accepted card, complete with contactless payment function and saving perks on overseas spending. Gain access to 75 OCBC Premier Centres across Southeast Asia for you to unwind and relax while we attend to your banking needs.
Learn more


Get in touch
Get in touch