Transaction Banking Solutions
Benefits from our integrated range of services from cash management and international trade financing to supply chain financing solutions and more.
HIGHLIGHTS
Cash Management
At OCBC Bank, we recognise the importance of maximising liquidity so businesses gain from their cash conversion cycle. Be in control and maximise your liquidity from your collections and payments with our range of cash management solutions.
Both domestically and internationally, we help you:
Collect your sales proceeds
Pay your suppliers and settle bill payments
Manage your cash flow
Enchance your yield through liquidity management
Manage and process your payroll
Liquidity Management
Maximise returns and reduce costs for your business through Cash Sweeping arrangements.
Host-to-Host (H2H)
Today's fast-changing business climate calls for corporates to adopt a single line of connectivity to the bank. This way, your business can send and receive data, messages and financial information securely and efficiently.
Highly secure and easy to set up, OCBC Bank's Host-to-Host (H2H) is designed to handle a high volumes of transactions.
Our H2H solution supports digital file transfers between your company and the bank without any human intervention. By streamlining and automating our processes, we are able to improve the overall operational efficiency and reduce operational costs, all while keeping your data safe.
Application Programming Interface (API)
Our seamless, intergrative solutions can transform your business operations by streamlining your workflow and reducing costs.
OCBC Bank is at the forefront of offering API connectivity to facilitate your business transactions.
Our API intergrates real-time processing of payments, receivables and information enquiry into your business workflows. This real-time fulfillment improves efficiency and cost savings for your business, while at the same time smoothening your customers' or end users' transactional experience.
Trade and Supply Chain Finance
Leverage our global network and comprehensive suite of trade finance products to keep your trade growing. You can:
Apply trade financing solutions to expand your business into new markets
Optimise your working capital to scale your business volumes
Unlock cash flow from your supply chain by monestising your receivables
Mitigate payment risks for your trade transaction
Learn how our trade finance solutions can meet your business requirements according to your industry and business needs. With our team of dedicated and experienced specialists, you can rest assured that your business is in good hands.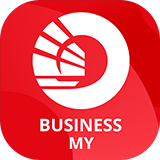 OCBC Malaysia Business Mobile Banking app
NEED HELP?
Find out how OCBC can help your business
Call us at 1300 88 7000 (within Malaysia) or +603 8317 5200 (outside Malaysia) or speak to your dedicated Relationship Manager.