One Team
As a Premier Banking member, you will not be limited to your assigned Relationship Manager. Backed by a dedicated Premier One Team, you can get access to a committed team of specialists, who will provide you with a comprehensive range of wealth management services and privileges to help you stay ahead.
Relationship Manager
Your Relationship Manager is always at your service for all your financial needs and to help you protect and grow your wealth.
Relationship Officer
Supporting your Relationship Manager is your Relationship Officer, who ensures that your transactions and queries are processed with priority.
Wealth Specialist
Should you require specialist advice, simply ask your Relationship Manager for an in-depth discussion with a Wealth Specialist.
Premier Loan Specialist
Your Premier Loan Specialist works closely with your Relationship Manager to guide you through your financing options, so you can better manage your liquidity, leveraging on assets that you have.
Premier Centre Manager & Consumer Branch Manager
You can also have access to our dedicated senior team members, Premier Centre Manager and Consumer Branch Manager, giving you the best of expertise.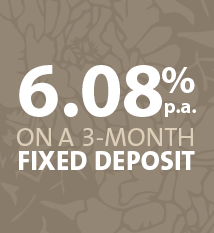 Eligibility
You can become a Premier Banking customer with deposits and/or investments of
RM300,000
or more with us.